Working with A Brit and a Broad
Between the three of us we cover an extremely wide range of skills that you wouldn't find with other traditional bloggers, and because of that we can offer a number of different services.
Macca Sherifi
Macca Sherifi is an author, freelance travel writer and professional photographer. He has worked with a number of major publications such as the Guardian, the Independent, MailOnline and Wanderlust, and shooting at events with Contiki Travel and Traverse Events.
Brianna Wiens
Brianna Wiens is a professional actress working in a number of shows and theatre productions in Canada. She is also a professional photographer, primarly shooting headshots and portraits for portfolios in and around Vancouver.
Brian Ceci
Brian Ceci runs his own award-winning video production company, Noravera, boasting clients such as Google, Facebook, and the Fairmont Hotel Group. As Brian says:
Noravera removes any hesitation or fear when it comes to portraying your story on film. We have the technical expertise and vision to turn any story into video as we dig into your passion.
Outside Noravera, Brian has been a part of the popular Canadian TV show 'Eastside Stories' as well as working with the NHL and other major organisations.
---
Opportunities
If you're looking for a bloggers point of view with real-time updates and coverage, then we would love to hear from you.
Alternatively, we are looking to work with tourist boards and DMOs to specifically shoot new episodes for A Brit and a Broad, which will not only go up on our website but on our popular YouTube channel too.
---
How can we work together?
Competitions and giveaways
Editing
Live social media coverage
Press trips
Social media consultancy
Twitter chats
Videography
Writing (blog and copywriting)
---
Why should you work with us?
We have been blogging since 2008, been involved in the travel industry since 2010, and since we created A Brit and a Broad in 2014 we have worked with companies such as Raggamuffin Tours in Belize, Quetzal Trekkers in Nicaragua and with companies and tourist boards such as Aer Lingus, Be Here BC and Visit Denmark.
Due to the fact we have all worked in creative production, we are extremely professional and are able to deliver exactly what you need. One of the best ways of working with A Brit and a Broad is to let us come up with creative campaigns that best suit your needs.
Our background in online and print journalism means we deliver highly engaging content. Also, we have all been involved in video production, from producing to shooting to acting to editing. This means we can produce award-winning quality content few others can.
Collectively, the three of us have been all over the world where we have travelled, volunteered and worked abroad.
To highlight our expertise, the countries we have travelled to are: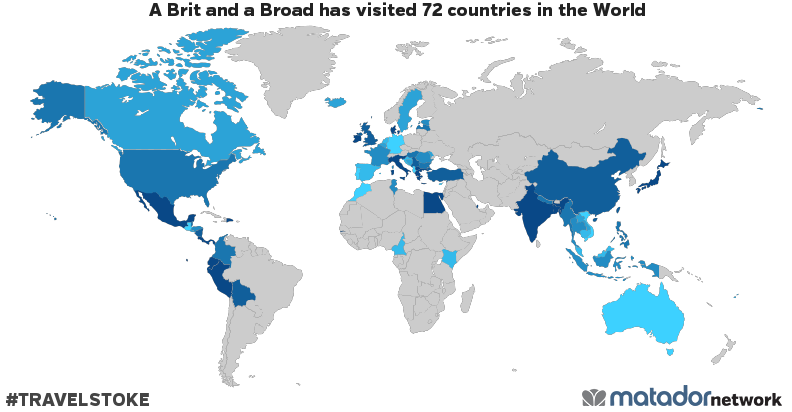 ---
Insights
A Brit and a Broad is most popular in the US, the UK and Canada, with the majority of users being aged between 18 to 34 looking to see the world. Currently, our demographic is split 46% women, 54% men.
Site stats:
Monthly UVs (taken from 1st April 2016 to the 1st July 2016) – 5,500
Monthly PVs (taken from 1st April 2016 to the 1st July 2016) – 17,550
Month UVs (taken from 1st January 2015 to the 1st January 2016) – 4,300
Month PVs (taken from 1st January 2015 to the 1st January 2016) – 14,700
Social stats:
Facebook – 2,400
Instagram – 1,600
Twitter – 3,000
YouTube – 1,000
Also, with A Brit and a Broad, you're not just getting one channel, but a further three as each of us have our own social media accounts too. Accumulatively, we have the following social stats which we can add to any campaign:
Instagram – 8,000
Twitter – 16,000
---
Companies we have worked with